MQ-based Online API
MQ-based Online API
Intro
New Online API proposal: Message-Queue-based data exchange for STAR Online domain;
Purpose
Primary idea is to replace current DB-centric STAR Online system with industrial-strength Message Queueing service. Online databases will, then, take a proper data storage role, leaving information exchange to MQ server. STAR, as an experiment in-progress, is still growing every year, so standard information exchange protocol is required for all involved parties to enable efficient cross-communications.
It is proposed to leave EPICS system as it is now for Slow Controls part of Online domain, and allow easy data export from EPICS to MQ via specialized epics2mq services. Further, data will be stored to MySQL (or some other storage engine) via mq2db service(s). Clients could retrieve archived detector conditions either via direct MySQL access as it is now, or through properly formatted request to db2mq service.
[introduction-talk] [implementation-talk]
Primary components
Implementation
Use-Cases
STAR Conditions database population: epics2mq -> MQ -> mq2db; db2mq -> MQ -> db2mq-client;
Data exchange between Online users: mq-publisher -> MQ -> mq-subscriber;
How-To: simple usage example
login to [your_login_name]@onl11.starp.bnl.gov ;
checkout mq-publisher-example and mq-subscriber-example from STAR CVS (see links above);
compile both examples by typing "make" ;
start both services, in either order. obviously, there's no dependency on publisher/subscriber start order - they are independent;
watch log messages, read code, modify to your needs!
How-To: store EPICS channels to Online DB
login to onl11.starp.bnl.gov;
checkout epics2mq service from STAR CVS and compile it with "make";
modify epics2mq-converter.ini - set proper storage path string, add desired epics channel names;
run epics2mq-service as service: "nohup ./epics2mq-service epics2mq-converter.ini >& out.log &"
watch new database, table and records arriving to Online DB - mq2db will automatically accept messages and create appropriate database structures!
How-To: read archived EPICS channel values from Online DB
login to onl11.starp.bnl.gov;
checkout db2mq-client from STAR CVS, compile with "make";
modify db2mq-client code to your needs, or copy relevant parts into your project;
enjoy!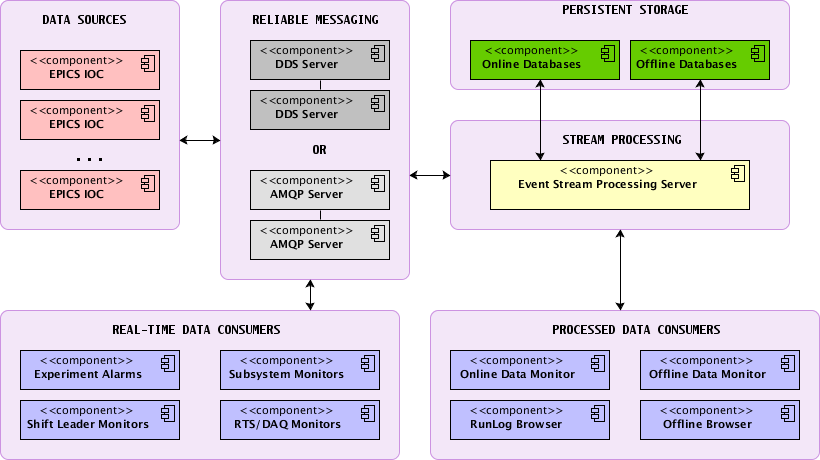 Groups: