Organization
Updated on Wed, 2021-07-07 01:24 by dongx. Originally created by jeromel on 2007-02-14 17:06.
Under:
On May 2020, the STAR management team has decided to reorganize the STAR software and computing (S&C) activities. The new S&C organization includes an S&C management team which oversees the S&C related issues together with six sub-groups. Please see the following the new organization chart and the subgroup leaders and relevant mailing lists.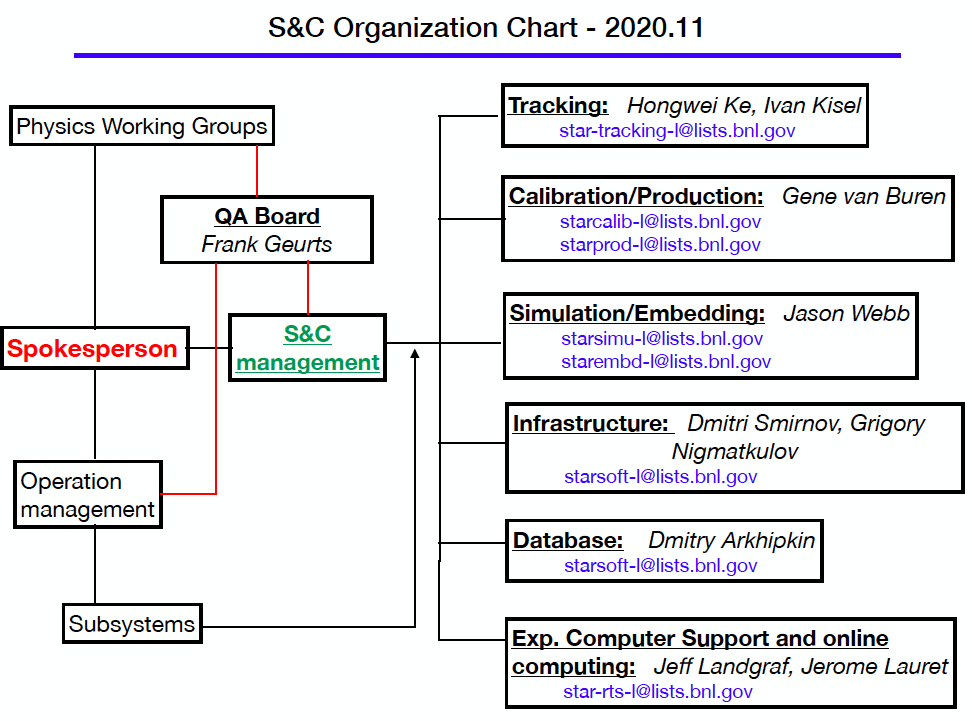 The S&C management team members:


Hongwei Ke (BNL), Ivan Kisel (Frankfurt)
Gene van Buren (BNL)
Jason Webb (BNL), Xianglei Zhu (Tsinghua)
Dmitri Smirnov (BNL), Grigory Nigmatkulov (MEPhI)
Dmitry Arkhipkin (BNL)
Jerome Lauret (BNL), Jeff Landgraf (BNL)
Frank Geurts (Rice)
Xin Dong (LBNL), Lijuan Ruan (BNL)
Helen Caines, Rongrong Ma, Takafumi Niida (ex. off.)
Torre Wenaus (ex. off.)


Gene van Buren

-

NPPS STAR point-of-contact
Jeff Landgraf - SDCC liaison



Below is a brief description on the responsibilities of each sub-groups:

Tracking: - maintain / develop tracking software
- online/offline tracking merging
Calibration/Production: - data calibrations (coordinating subsystems)
- production library built and maintenance
- real data production and data management
Simulation/Embedding: - GEANT geometry maintenance and development
- Event generator integration
- Embedding software maintenance and development
- Simulation/embedding production
Software infrastructure: - Offline software code review, integration and maintenance
- StEvent/MuDst/picoDst maintenance
- management of OS, compilers etc and karma permissions
- coordination of efforts for bug fixing
Database: - Online databases and maintenance
- Offline databases (Calibrations, Geometry, RunLog)
- FileCataLog databases
- STAR phonebook / drupal modules
Experimental Computer Support and Online Computing:
- Offline/online computing support for experiment
- Cyber security
---

STAR Software & Computing is headed by Dr. Jérôme Lauret and Dr. Gene Van Buren located at the Brookhaven National Laboratory.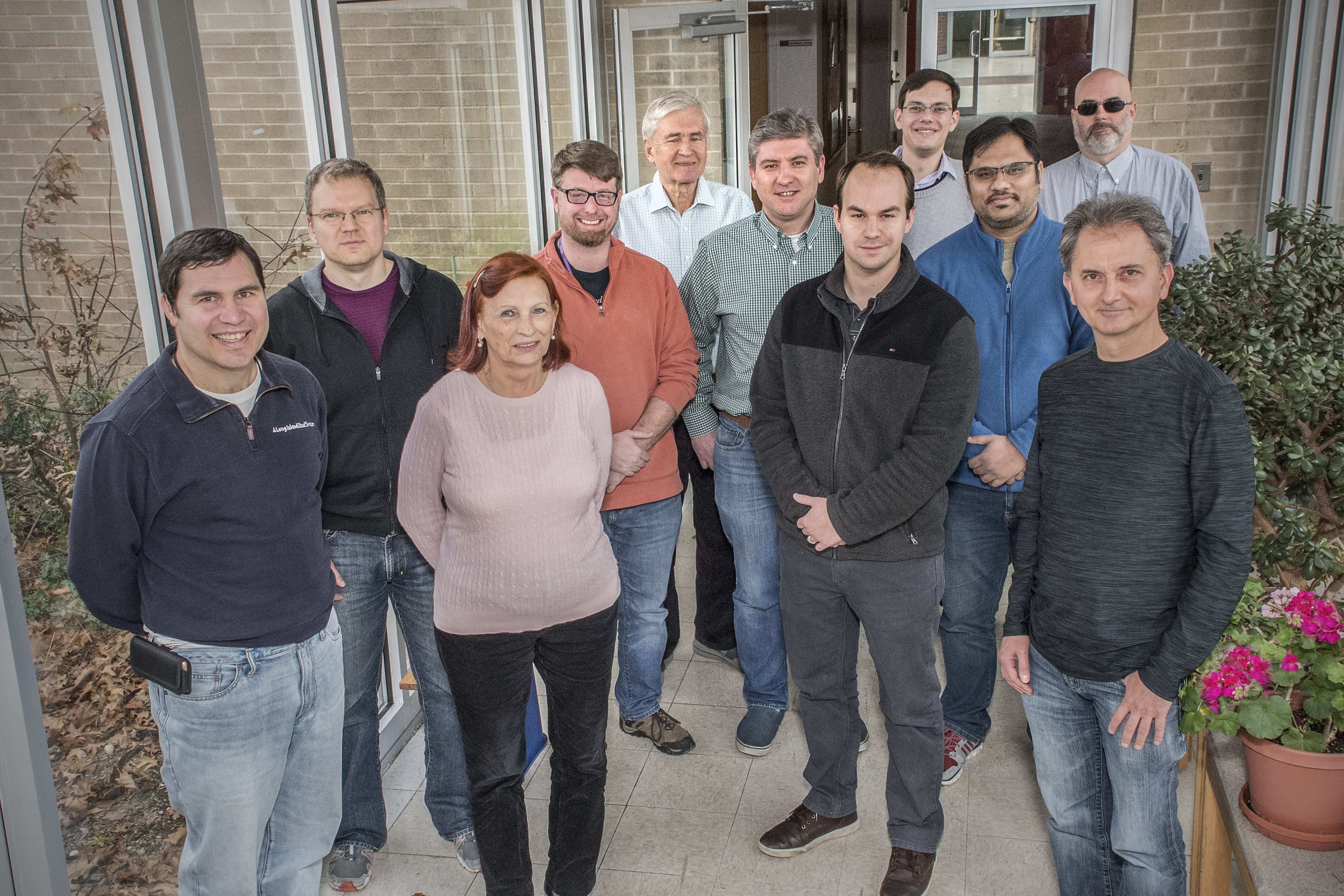 From left to right: Gene Van Buren, Dmitri Smirnov, Lidia Didenko, Jason Webb, Victor Perevoztchikov,
Dmitry Arkhipkin, Michael Poat, Levente Hajdu, Amol Jaikar, Wayne Betts, Jérôme Lauret
The S&C management structure is as below. Unless otherwise specified, [X] indicates an activity area whose overall coordinator has been missing and co-lead (either internally absorbed or activity dropped).
Jérôme Lauret (BNL) - Software & Computing project Leader
Gene Van Buren (BNL) - Software & Computing project co-leader